Comite Noviembre Scholarship Essays
Dr. Antonia Pantoja, founder of ASPIRA of NY receives award from Lorraine Cortes-Vazquez, VP for Education & Government, Cablevision & former Executive Director of ASPIRA of New York


Teresa A. Santiago, Chairperson, Comité Noviembre, Suleika Cabrera Drinane, President, IPRHE and renowned Singer and Activist Danny Rivera


Jennifer Lopez receives CN Heritage Award from Miriam Colón


Miss Universe 2001 Denise Quiñones receives award from Miriam Colón


Suleika Cabrera Drinane, Nydia Caro and Supreme Court Justice Sallie Manzanet


First Puerto Rican US Congresswoman Nydia Velazquez presents award to actress and AIDS Activist Rosie Perez


Miguel A. Fuentes, President & CEO, Bronx Lebanon Hospital Center, US Surgeon General Commander Vice Admiral Richard Carmona, MD, MPH, FACS, award recipient and Judge Manzanet

Greetings and Happy New Year!
We are pleased to return this month with our first issue of the year. We hope to bring many more issues throughout the year featuring Puerto Rican writers. We hope you had a wonderful celebration of our holiday traditions and we wish you a prosperous new year.
We continue to have La Isla in our thoughts and prayers. PRIDA encourages you to help in any way you can.
We ask that you help our book club grow by sharing this newsletter with your friends in each media platform you have to help us grow and highlight our writers.

This month we sit with the multi-talented children's author, playwright, and performer and PRIDA member, Dania Ramos. Dania is the author of Who's Ju? (7th Grade Sleuth Series) (Northampton House Press). We shared some tea and pastelon over our talks of her latest adventures in the literary and performance world. You will recall that we last saw Dania at the Comite Noviembre Puerto Rican Book Expo and Artisan Fair hosted at Hostos Community College this past November where she is an annual participant.
DANIA RAMOS IS
OUR
BORICUA AUTHOR EVERYONE SHOULD READ!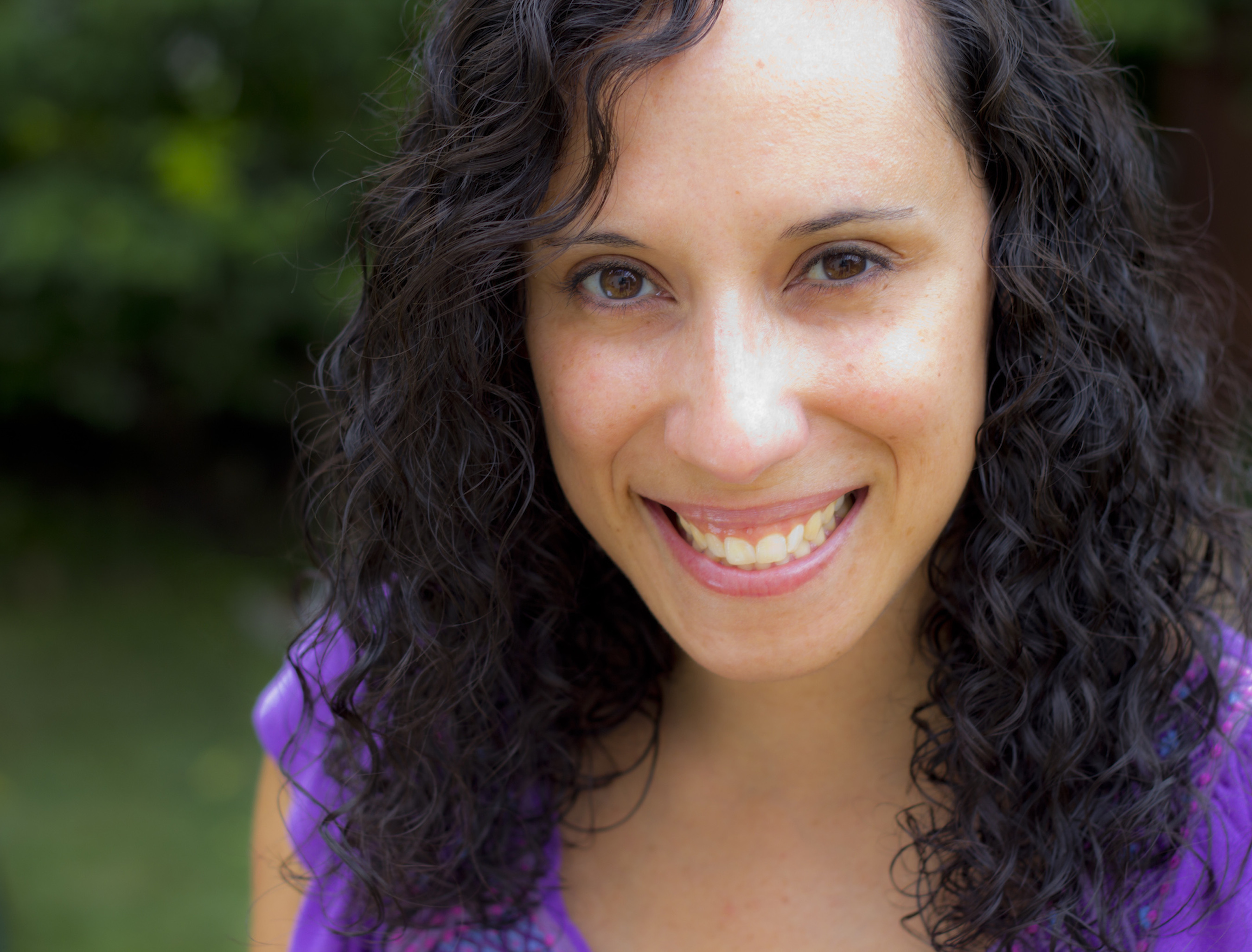 We travel to Bloomfield, New Jersey where Dania lives with her husband, musician and songwriter, Michael Aquino. She tells us theirs is a creative household where things are always cooking.
Dania has been involved in creative teaching since 2003, having taught drama and writing for various performing arts organizations. She told us she loves having the opportunity to guide students as they step onto their own creative paths. In addition to teaching and writing, she has also worked as a stage actor, box office manager, and an arts education and outreach coordinator.
Her Puerto Rican roots are in her father's hometown of Cayey and her mother's is in Isabela. Both her parents moved to New York as young children, eventually meeting in New Jersey where they ended up bringing us the gifted Dania Ramos. She tells us she has visited her paternal home in Cayey frequently and has had various opportunities to explore and visit her mother's hometowns of Isabela and San Sebastian.
Dania's first play was The Case of the Never-ending Hiccups, a co-authored script written and performed as a fourth grader for her English class. As an adult, she wrote her first script in 2000. Dania's talented work has been developed and produced at professional theatres in New Jersey and New York.
She tells us that she started writing fiction nine years ago as part of her studies in the Wilkes University creative writing graduate program. As she wrote, she kept getting the visual of a twelve-year-old amateur sleuth character she eventually named Justina Feliciano (Ju). Justina, the character, permeated Dania's graduate-level writing assignments, just begging to be allowed to come to life in literary form. That's when Dania knew that Ju belonged in a book and not a play as Dania initially planned.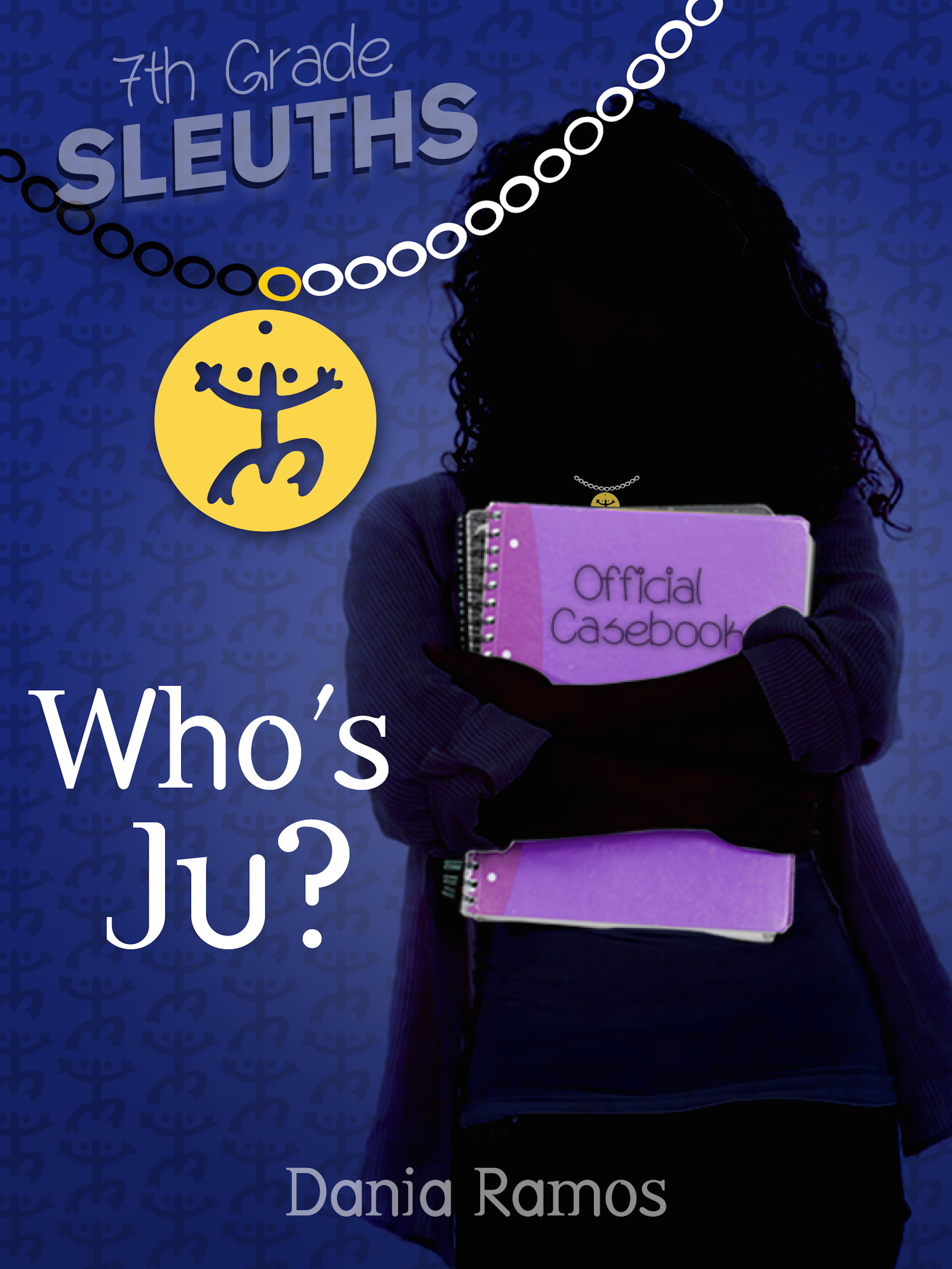 She added that she felt the idea of writing a novel was intimidating because she felt she was more skilled at telling stories through playwriting which is consists of dialogue crafting. Nonetheless, she pushed through the doubts and wrote the middle grade novel under the guidance of professors Lenore Hart and David Poyer. The novel was published by Northampton House Press in 2015.
Here at PRIDA, we ask our featured writers why they write because that reason is what eventually drives us to produce a tangible manifestation of our natural gift, right? Many writers have told us they write because our stories are not told in the mainstream market. Dania tells us the same thing and affirms that she writes because she has to, because she loves storytelling and because our Latino/a children and teens can and will see themselves reflected in the stories they read if we make sure to write them. She writes to discover, affirm, and preserve our culture. She writes like many of us do, to calm her racing mind. She finds inspiration in reading, watching, or listening to a good story. She enjoys experiencing and creating works that reflect the Puerto Rican culture and is always fascinated and inspired by her students' writing.
She is currently in the editing stages of Ignacio in the Dark, the second book in the 7th Grade Sleuths series, and is writing a one-act script set in post hurricane Maria Puerto Rico that will be part ofContinuing the Conversation at Dreamcatcher Repertory Theater this spring. In March she will have two projects featured in the 2018 New Jersey Theatre Alliance's Stages Festival – Mi Casa Tu Casa, a bilingual blend of music and folktales; and Timestorm, a children's science-fiction audio drama series that her husband Michael and her are producing through Cocotazo Media.
It is only natural that such a multi-faceted creative, like our friend Dania, be influenced by writer Julia Alvarez. She discovered Alvarez' novels in her twenties, the first book being ¡Yo!, and was fascinated by how the author portrays point of view. She then became an avid and committed reader of Alvarez' work and has amassed a collection of the author's varied genre works in non-fiction, poetry, historical fiction, middle grade, young adult, and picture books. Dania tells us that she had the pleasure of meeting her twice and both times, Alvarez proved to be as brilliant and genuine as Dania imagined her.
You can find more information about Dania Ramos and her creative work by visiting her online at http://www.daniaramos.com Follow her on Twitter @daniadania or Facebook: @DaniaRamosAuthor and check out her out on Instagram: @CoquiMonster1
If you want to read more about Ju in the sleuth series you can find her book on; Amazon, Barnes & Noble, IndieBound, Square, and Follett/Titlewave
Dania encourages Puerto Rican writers and artisans to join PRIDA like she did. Why? Because it offers our artists and authors practical support by providing useful resources and increased visibility for their products and projects. For her, she added, the greatest benefit is the sense of community that PRIDA offers. She has participated in the Comité Noviembre National Puerto Rican Artisan Fair and Book Expo for three years, and each time, she says, she has been uplifted by fellow authors who are telling their truth through verse, prose, images, and recipes as well as visual artists who are creating beautiful, culturally-relevant art.
Here at PRIDA, we enjoyed our time with Dania and hope you did too. Purchasing or borrowing and reading Dania's and other Puerto Rican writers' work is an act of support for both established and up and coming authors. Help them grow as a literary community that will rival the rest by reading their work, sharing reviews and recommendations, and gifting their work to others. Your support will help our entire community.

Writer Rick Kearns, the first Latino named Poet Laureate of Harrisburg, Pa, participated in the Harrisburg Mayor's 2nd inauguration by reading a poem written for the occasion. He told us he made sure to give our beloved Puerto Rico a loving shout out in his piece.
Thank you to Willie Perdomo and Noel Quiñones for hosting Poets for Puerto Rico (The Bronx), a Reading for Hurricane Relief, on Saturday, January 20, 2018 at the Bronx Museum. Proceeds to benefit Nonprofit Para La Naturaleza. Feautred Poets: Denice Frohman, Julian Randall, Cat Vélez, Paula Ramirez, Elisabet Velasquez, Felipe Luciano, Mariposa, Christina Olivares, Randall Horton, Mahogany Browne, Carina Del Valle Schorske, Flaco Navaja, Ricky Maldonado, Marissa Johnson-Valenzuela, Myrna Nieves, Khalin Vasquez, José Olivarez, Marwa Helal, Nicole Sealey, Timothy DuWhite, Kaila Bulé, Vincent Toro, Melissa Castillo-Garsow, Melissa Lozada-Oliva, Peggy Robles-Alvarado, Deborah Paredez, Rico Frederick, Ed Randolph, Jon Sands, Crystal Valentine, María Fernanda Lara Chamorro, and Natalie Diaz.
Mervin Román Capeles just published Volando Con Las Alas Rotas. Get your copy today on Amazon.com
Jonathan Bonhomme's novel 97 appeared in an article in The Bronx Times. He was also featured on King Talk Radio with Council Member Andy King on January 5, 2018.
Javier Cruz Winnick, author of A Reason to Smile has collaborates with Lion Forge Comics to produce work for an anthology from a Lion Forge Comics title that will go to Hurricane Maria recovery relief efforts.  Visit Lion Forge Comic Benefit Puerto Rico for more information.

The Masters Review is sponsoring a short story contest for emerging writers. You could earn $3000, publication online and agency review by various literary agencies. Visit: Masters Review Short Story Contest
Free One Day Workshop! Don't forget to visit Vanessa Martir online for information on her live and online classes to hone your memoir essay writing. She is hosting a one-day FREE workshop on January 27, 2018. Email writingourlives@gmail.com and type in One Day Free Workshop on the subject line. For more information on dates and deadlines for Vanessa's writing workshops visit: Vanessa Martir Writing Our Lives Workshops
Yadhira Gonzalez-Taylor is facilitating a Writers Workshop from page to print at the IT Studio on February 4, 2018. Participants will harvest tools necessary to bring their ideas to print and beyond. For more information visit: Your Childrens Book, From Page to Print Workshop
A Live Big Project is facilitating a multi-session workshop at the IT Studio. This experience is open to all ages, genders, and backgrounds and is designed to develop your writing and other forms of creative expression to guide you in giving yourself permission to do what YOU want to do but have been holding back. LIVING BIG is about YOU and ONLY YOU. Visit: A Live Big Project Workshop
Scholarship: Viable Paradise Writers-of-Color Scholarship for a weeklong workshop on Martha's Vineyard dedicated to writing and selling commercial science fiction, fantasy, and horror. For more information visit: Viable Paradise Scholarship Submission deadline is February 1st.
VONA is accepting submissions of applications for it's summer workshop/residency in Berkley, California. Some financial aid provided. For more information visit: VONA Summer Workshop Application
---

Featured Books by Boricua Authors
We encourage you to get these titles this month. Don't forget to email ygtbooks@gmail.com with feedback and we will publish your thoughts in our next newsletter.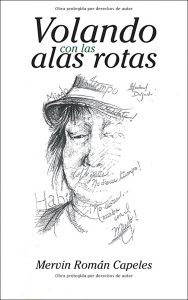 Volando Con Las Alas Rotas,
by Mervin Román Capeles, (2017) $11.95 on Amazon
This is a Spanish language title about art as a way to change lives. This book is based on real life anecdotes from the author's life experiences. For far too long silenced due to shame and guilt. sharing these now will help the reader seek and find self-acceptance, gain introspection and be encouraged to express those natural emotions through art. Pain can be a valuable muse, the authors.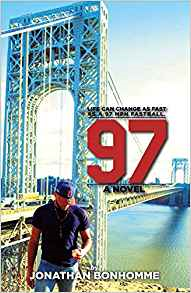 97, a Novel, by Jonathan Bonhome, (2017) $9.99 on Amazon
Meet Yovanny Cedeno, a 17 year old from the Washington Heights, New York. A High School dropout with a god given 97 MPH fastball, Yovanny must choose between his parents' old school rules of "education first," or following his friend Niko's ghetto fabulous lifestyle. Chasing his dreams brings him the biggest joy in life but one bad decision may take it all away.
For the Children: A Reasons to Smile, by Javier Cruz Winnick , (2014) $$9.99 on Amazon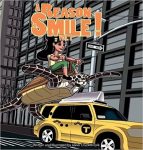 Meet Luiza Brillante, a big city girl who loves people watching! With so many people and places to see, there are always new adventures to find, and every once in a while, she gets to help someone out too! The child in your life will enjoy taking a walk with Luiza and see how she always finds a reason to smile!"
If you get any of these titles be sure to send an email to ygtbooks@gmail with your feedback and we will publish your comments in our next issue. Happy Reading!
It Concerns The Madness, by Nancy Mercado, (2000)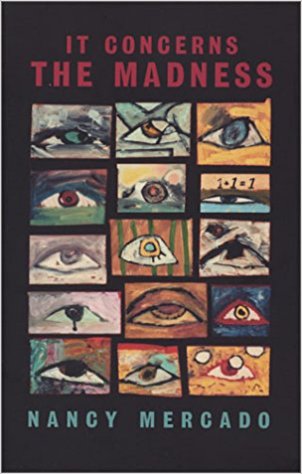 Poetry on Latino/Latina Studies. Nancy Mercado, editor-in-chief of LONG SHOT, a literary and arts publication, has presented her work throughout the United States and Europe. She is currently a professor at Boricua College. IT CONCERNS THE MADNESS introduces Nancy Mercado as a major Nuyorican American voice to the ranks of North American Latino literature.

Eleanor Parker Sapia, A Decent Woman
354 pages, (Scarlet River Press)
$16.99.
For sale on Amazon.com. Award winning author Eleanor Parker Sapia brings us this historical novel taking place at the turn of the century in Ponce, Puerto Rico. A comadrona is forced to make a hard choice in her quest for justice and fullfillment. A Decent Woman won Second Place for Best Latino Focused Fiction Book in 2017 International Latino Book Awards, received an Honorable Mention for Best Historical Fiction in 2016 at the International Latino Book Awards and was selected Book of the Month by Las Comadres and Friends National Latino Book Club in 2015. A writer, artist, and photographer, Eleanor currently lives in Berkeley County, West Virginia, where she is working on her second novel, The Laments of Forgotten Souls, set in 1927 Puerto Rico.
---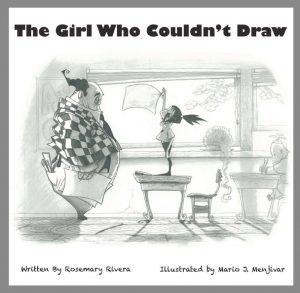 Rosemary Rivera, The Girl Who Couldn't Draw,
32 pages
$10.00 Amazon.com.
Meet Myra, a 7 year old determined to win the school art contest, but things get wacky when the grown-ups see her work. A funny, almost true story about what happens when adults forget how to think like a kid. A good read for kids and grownups alike. Rosemary lives in New York City with her family. She is a frequent Op-Ed contributor and a freelance writer.
---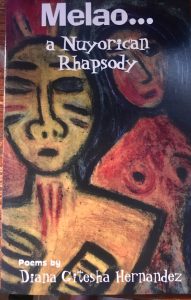 Diana Gitesha Hernandez, Melao…A Nuyorican Rhapsody
48 pages
$15.00
Available from the author, send her a request on Facebook or gitesha@yahoo.com
---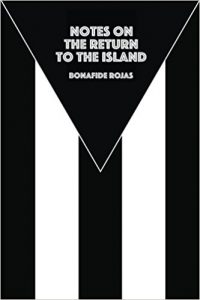 Bonafide Rojas, Notes On The Return To The Island
BUY NOW: 158 pages, $15.00
Amazon.com, Word Up Bookstore, and Barnes and Noble Bookstore at Union Square.
In his new collection, Notes On The Return To The Island, Bonafide Rojas pays tribute to Puerto Rico. He also honors family, and puts the lens on the current state of Puerto Rico. Pieces contained in this work take the reader on a literary journey  from United States colonialism to the creation of a fiscal control board due to the 70 billion dollar debt, and poetically details his parents relationship with Puerto Rico. Rojas presents a rare perspective of the "Aquí/Allá (here/there) Nuyorican experience in The Puerto Rican Diaspora. Notes On The Return To The Island will show you what's happening inside Puerto Rico  and allow you to see the world staring at them.
---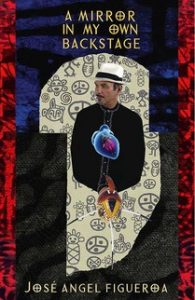 Jose Angel Figueroa, A Mirror In My Own Backstage
BUY NOW: 160 pages, $14.95
Amazon.com
Cover art/Design by Juan Sanchez
Figueroa's most recent collection of poetry and prose including some of his most classic poems along with a new crop of innovative work. Known for his distinctive visual collages, masterful imagery and metaphors, he explores the Latino experience in the United States as well as philosophical questions about the human condition. Figueroa's poetry needs hearing because it is sound, not just text for silent parsing.
---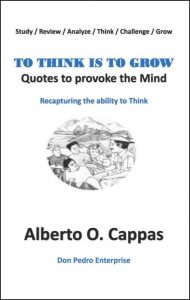 Alberto Cappas, To Think is to Grow, Quotes to provoke the Mind
BUY NOW: 90 pages, $12.00 on Amazon.com
Seek inspiration with over 80 Quotes to provoke the young mind, like jump-starting a car engine, an approach to influence students to think in terms of conventional systems, to see beyond the physical, with the goal of recapturing their abilities to think. A book for teachers, counselors, and family members to ignite discussions and challenge and provoke critical thinking.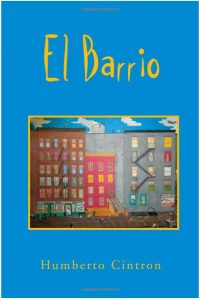 Humberto Cintron, El Barrio
174 pages
BUY NOW: $9.99 and up
Amazon.com
Cintron's collection of poetry and short stories about life in Manhattan's Spanish Harlem "El Barrio" is a must read!
---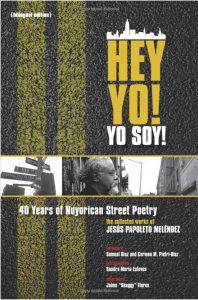 Hey Yo! Yo Soy! 40 Years of Nuyorican Street Poetry
by Jesus Papoleto Melendez
BUY NOW: 386 pages, $9.99 and up
Amazon.com
Hey Yo ! Yo Soy! 40 Years of Nuyorican Street Poetry, A Bilingual Edition, comprised of three previously published books, "Casting Long Shadows" (1970), "Have You Seen Liberation" (1971), and "Street Poetry & Other Poems" (1972).
The collection consists of stories about growing up Puerto Rican in New York City's El Barrio. Meléndez has long been considered one of the founders of the Nuyorican
movement and the political, intellectual and linguistic topics he approaches in his work remain extremely relevant to this day.  The book also includes historical photos and an in depth interview of the author.
---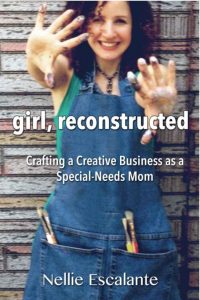 Nellie Escalante, Girl, Reconstructed: Crafting a Creative Business as a Special-Needs Mom
BUY NOW: 112 pages $13.99 Paperback
Amazon.com
Nelli Escalante delivers the answers to many questions from parents with special-need children on the spectrum. The author details answers she had to give time and time again as a creative and as a business woman. The book provides much needed encouragement, inspiration, and immeasurable strategies and resources for coping in this challenging journey.
---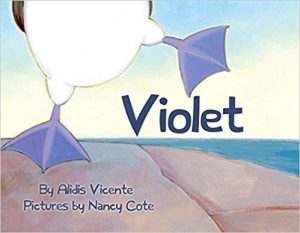 Alidis Vicente, Violet
BUY NOW: $8.95
Amazon.com
Violet is a bright and colorful story set in the Galápagos Islands. Told entirely from the point of view of the animals that live there, this is the tale of a unique baby bird named Violet. Violet's mother is a Red-Footed Booby, and Violet's father is a Blue-Footed Booby. Their baby, Violet, is the first one of her kind, a Purple-Footed Booby, and she displays characteristics of both species. Violet's red footed and blue footed relatives, however, don't notice her similarities at first, just her differences, and they don't see how she will ever fit in.
---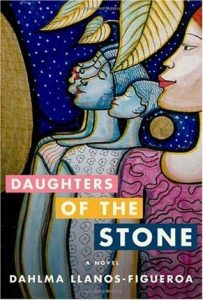 Daughters of the Stone, by Dahlma Llanos-Figueroa
Mid-1800s, Fela, taken from Africa, a slave at a sugar plantation in colonial Puerto Rico, has a secret. Read about the lineage of daughters connected by their intense love for one another, and the stories of a lost land, about healers and craftswomen about bi-cultural journeys and the wisdom of womanhood.
Finalist for the PEN/Robert Bingham Fellowship for Writers
Price: Varying Prices from Amazon.
Also available at El Museo Del Barrio's gift shop (1230 5th Avenue at 105th St., NYC)
Note: 2nd Edition coming soon!
---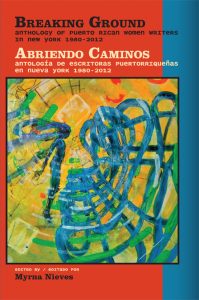 Breaking Ground: Anthology of Puerto Rican Women Writers in New York 1980-2012/ Abriendo caminos: antología de escritoras puertorriqueñas en Nueva York 1980-2012, by Myrna Nieves, Ph. D.
This anthology presents the wide spectrum of poetry, poetic prose and fiction produced from 1980-2012 by 46 Puerto Rican women writers in New York. Some write in English, others in Spanish and a few of them write in both languages. The book also includes biographies of the writers, documenting their activism and offering a glimpse at their role in the artistic, social, political and intellectual history of New York's communities. This splendid literary wealth creates a context for the appreciation of emerging works and the discussion of issues of literary criticism that can spring from the texts themselves. .
BUY NOW: $35.00 from Amazon.com
---
Símbolos Taínos, by Tanya Torres
Simbolos Tainos is an 86-page paperback with Taino symbols, which encourage artistic expression through coloring and creating other art honoring and remembering our ancestors, the Taino. Curated with love by PRIDA artist and author Tanya Torres.
BUY NOW: $7.99
Available by order from Tanya Torres at tanyaetorres@yahoo.com or Lulu.com
---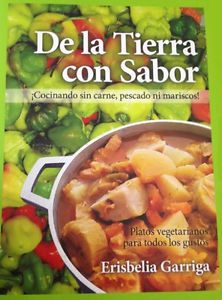 De la Tierra con Sabor, by Erisbelia Garriga
Segunda Edicion (Espanol) 328 pages, 247 recipes. A vegetarian recipe book with vivid photography covering our national traditional food without meets, fish, or shellfish. Erin says, if you are not a vegetarian you can still enjoy these recipes as accompanying dishes.
BUY NOW: Available at: La Marqueta, El Museo del Barrio, Kitchen Arts and Letters Bookstore, Amazon, myborinquen.com, and www.eriskitchen.net
---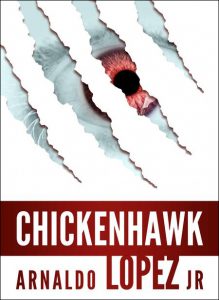 Chickenhawk, by Arnaldo Lopez Jr.
300 pages. Two Manhattan North Homicide detectives, Eddie Ramos and Tommy Cucitti, hunt a serial killer that's murdering young, male, Hispanic prostitutes.
BUY NOW online at arnaldolopezjr.com or Amazon. Available at Amazon in Kindle for $7.99 or Paperback for $17.53
---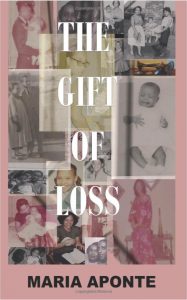 The Gift of Loss, by Maria Aponte
118 pages. The memoir of a Puerto Rican woman coming to terms with parental loss at a young age that transcends significant moments from the author's childhood through young adulthood. Poetry and personal reflections of struggles and survival.
BUY NOW from Amazon for $15.00
---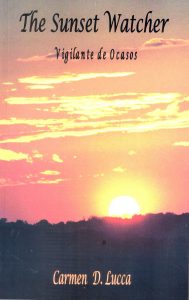 TheSunsetWatcher/VigilantedeOcasos, by Carmen D. Lucca
189 pages. Poetry reflecting peace in constant movement. Meditations on love, illusion, and death. Available by order from the Association for Puerto Rican-Hispanic Culture, Inc.
BUY NOW: Contact aphculture@verizon.net or 718-367-0780
---

Hey there PRIDA Authors! Did you publish something new? Did you recently receive an award? Are you going to a book fair? Do you know of a writing fellowship or grant application you want to share with the rest of the Puerto Rican writing community? Do you know of a writing competition or workshop scholarship? Do you possess any other golden nugget of information that could help a fellow writer? Share with us so the blessing can be sent back to you tenfold.
We will gladly share the information with our readers. Send email to: PRIDA member Yadhira Gonzalez-Taylor at ygtbooks@gmail.com and we will publish your news.
LEAVE US A NOTE !
Hasta la proxima! Until then, happy reading! If you read any of these authors, which we hope you do, drop us a note letting us know of your experience. We will publish it the following month for our readers.